Jurassic World: Dominion Dominates Fandom Wikis - The Loop
Play Sound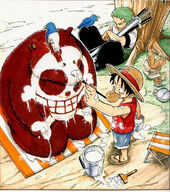 Alaude Hasegawa is property/protected of the Fishman King. The Creator's Permission is needed to do alter or to do anything to this page and if you are interested in colabration be sure to contact me.
Alaude Hasegawa

Manga

 - 

Anime

Statistics
Japanese Name:
アラウディ長谷川
Romanized Name:
Alaude Hasegawa
English Name:
Alaude Hasegawa
First Appearance:

One Piece: Blue Adventure

Affiliations:
The Dragon Pirates
Occupations:
Pirate; Swordsman;
Epithet:
Cool Guy (

クールな男

Kūruna otoko

?

);
Shinkoku kaijū (

深刻怪獣

Shinkoku kaijū

?

);
Ruthless Dragon (

冷酷な龍

Reikokuna ryū

?

)
Japanese VA:
Takashi Kondō
4kids English VA:
Robert McCollum
Funi English VA:
Robert McCollum
Age:
19 (Debut)
22 (after timeskip)
Birthday:
23th March
Height:
Bounty:
???,???,???
Devil Fruit
Japanese Name:
Tatsu Tatsu no Mi, Model: Fire Dragon
English Name:
Dragon Dragon Fruit, Model: Fire Dragon
Meaning:
Dragon, Fire Dragon
Type:
Zoan
Introduction
Introduce your character!
A pirate, marine, revolutionary, bounty hunter? Or just a bum?
Appearance
Tell us what your character looks like!
Clothes, height, skinny or fat, carry weapons at all?
Personality
How does your character behave and their morals
Abilities and Powers
Swordsmanship
If character uses a sword
Marksmanship
If character uses a gun
Hand to Hand Combat
Martial Arts, Free style
Physical Strength
How strong and feats of strength
Agility
How fast they can walk, how high they can jump, good at dodging, flexibility?
Endurance
How much damage and pain your character can endure
Weapons
Any weapons at all?
For further information: Devil Fruit Name (please link to your devil fruit page)
Summary,
Type,
Usage of the devil fruit
Please create a separate page for your devil fruit for detailed information on the usage, strengths, weaknesses, and attacks that the user have for this devil fruit if your character consumed a devil fruit.
Kenbunshoku Haki: Color of Observation

Busōshoku Haki: Color of Armaments

Haōshoku Haki: Color of the Conquering King
Relationships
Crew
Family
Allies/ Friends
Enemies
Other
History
Tell us what happened to your character?
Character Design
So how did you come up with your character? Inspiration? Creativity? How did you develop even further?
Major Battles
Who your character fought against
Ex.
Character vs that guy (Won, Lost, Interrupted, Escaped, Killed)
Quotes
Your character's phases (funny, inspirational, serious, etc)
Trivia
Tell us fun facts about your character
Related Articles
Links from this wiki that are related to this page
External Links
Links that are NOT from this wiki that are related to this page