Bluemold (ブルー型 Burumoldu) is okama
Bluemold
Statistics
Japanese Name:
ブルー型
Romanized Name:
Burumoldu
English Name:
Bluemold
First Appearance:
 ????
Affiliations:
Feminist Pirates
Occupations:
Pirate; Assassin
Epithet:
Heavy Whale (重いクジラ, Omoi Kujira

?

)
Age:
38(debut)
40(after timeskip)
Birthday:
December 6th
Height:
204 cm (6'8")
Bounty:
113,000,000
Devil Fruit
Japanese Name:
Sanjaku Sanjaku no Mi
English Name:
Belt-Belt Fruit
Meaning:
Belt
Type:
Paramecia
Appearance
Edit
Tell us what your character looks like!
Clothes, height, skinny or fat, carry weapons at all?
Personality
Edit
How does your character behave and their morals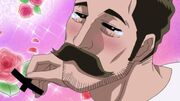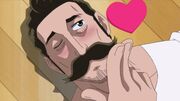 Abilities and Powers
Edit
Swordmanship
Edit
If character uses a sword
Marksmanship
Edit
If character uses a gun
Hand to Hand Combat
Edit
Martial Arts, Free style
Physical Strength
Edit
How strong and feats of strength
How fast they can walk, how high they can jump, good at dodging, flexibility?
Endurance
Edit
How much damage and pain your character can endure
Any weapons at all?
Bluemold ate Sanjaku Sanjaku no Mi, a Paramecia Devil Fruit which allows him to tap infinite amounts of a belts from his body.
Kenbunshoku Haki: Color of Observation

Busōshoku Haki: Color of Armaments
Relationships
Edit
Allies/ Friends
Edit
Tell us what happen to your character?
Major Battles
Edit
Who your character fought against
Ex.
Character vs that guy (Won, Lost, Interuppted, Escaped, Killed)
Community content is available under
CC-BY-SA
unless otherwise noted.