This article, Crocedip, is property of the Catalan Squirrel. Don't touch it without permission or no more popcorn for you .-.


Crocedip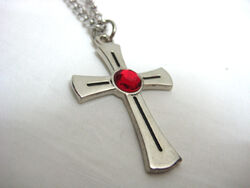 Statistics
Japanese Name: クロチェディップ
Romanized Name: Kurochedippu
English Name: Crocedip
Literal Meaning: Crossdip
Price: Uknown
Owner(s): Sylvia Lucarania ; Corshitan (former)
Grade: Uknown
Weapon type: Cross
Introduction
[
]
Brief summary of your weapon
Appearance
[
]
Come on! Tell us what it looks like! Does it look Sinister? Cool Pirate design? Shiny? It's too bright!!! Any decoration? Is it on fire? HOT!
Personality
[
]
Abilities and Powers
[
]
For further information: Inu Inu no Mi, Model: Dip
Being a cross that has absorbed a Zoan Devil Fruit, the Inu Inu no Mi, Model: Dip, Crocedip can transform into an dip-cross hybrid and a full dip at Sylvia's command. The Devil Fruit has also given Crocedip an own life and mind.
History
[
]
So........how, what or who made it? How did it come in into your character's possession? Used for good or evil?