Doragon Kasai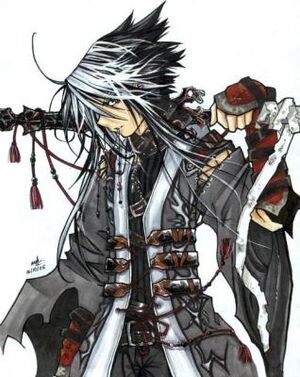 Age: 15 (Pre-Time skip)
17 (Post-Time skip)
Gender: ♂
Species: User
Blood type: ??
Birthdate: ??
Height: 6'1"
Weight: NOBODY (ALIVE) KNOWS
Island of Origin: Drifter
Occupation: Bounty Hunter, First Mate, Pirate
Epithet: The Claw of Darkness
Crew: none
Position: First Mate
Family: ??
Current Bounty:
Bounty History
1st Bounty: [2]
Reason:
Dream: Rid the world of the people who killed his parents
Page created by: Yasei No
Introduction
Edit
Doragon used to be a bounty hunter before Yasei came along.
Appearance
Edit
Look at the picture!!!!!!!!!!
Personality
Edit
He is really nice to everyone except the ones he is hunting. He has many times saved Yasei No from many almost fatal errors.
Abilities and Powers
Edit
Swordmanship
Edit
He uses the sword in the picture most of the time but can take any sword and use it efficiently.
Marksmanship
Edit
Yasei hates guns, so, he does too.
Hand to Hand Combat
Edit
He is an expert at this and has even taught Yasei a few tricks.
Physical Strength
Edit
He is amazingly strong for a slender guy that doesn't seem to do much.
He is super fast but not all that flexible.
Endurance
Edit
How much damage and pain your character can endure
Any weapons at all?
For further information: Devil Fruit Name (please link to your devil fruit page)
Summary,
Type,
Usage of the devil fruit
Please create a separate page for your devil fruit for detailed information on the usage, strengths, weaknesses, and attacks that the user have for this devil fruit if your character consumed a devil fruit.
Kenbunshoku Haki: Used this haki to find out where his victims were
Busōshoku Haki: Used this to shield and hit from a far
Haōshoku Haki: Used this for a quick and easy killing
Relationships
Edit
none
none
Allies/ Friends
Edit
Tell us what happen to your character?
Major Battles
Edit
Who your character fought against
Ex.
Character vs that guy (Won, Lost, Interuppted, Escaped, Killed)
Your character's phases (funny, inspirational, serious, etc)
Tell us fun facts about your character
Related Articles
Edit
Links from this wiki that are related to this page
Community content is available under
CC-BY-SA
unless otherwise noted.