​

"The Dark Lord reigns over this page. Witness its magnificense at your own peril!"

---

Hika Hika no Mi is property/protected of Hell. The Creators Permission is needed to alter/do anything to this page.

Note: All images used do not belong to the user and are solely there for "general idea" purposes, found using sites such as: Zerochan, DeviantArt and Google Images.
Hika Hika no Mi
Statistics
Japanese Name:
光光の果
English Name:
Shine-Shine Fruit
Meaning:
Shine
First Appearance:
Type:
Logia
Eaten by:
Nova Blade
Appearance
A somewhat bright golden pear with orange swirls all over, with brown stems extending outward of the top of the fruit holding brown leaves. The inside is completely white, with an extreme cinammon taste when bitten. The fruit itself is extremely hard to devour as it is one of the worst tasting Devil Fruit's in history.
However the Hikaeons themselves are rather extravagent. The picture displays a Hikaeon filled Solar System, in which is rather bright and given a more golden/orange colour. The Solar system itself would be extremely hot and would not suffice to living conditions. It would be deemed as an area to avoid.
The hikaeons in mass are capable of lighting up areas as great as the sun can. However, such masses have never been seen. A Hikaeon itself is in miniscule proportion as it takes billions and billions of the particles to create Novas body. The particle itself is more of a miniature sun, as it is a ball of concentrated light and heat energy drained from the sun. It is spherical, white and flashy. It is incredibly bright and so can be confused to be golden/orange.
It acts like a flaming ball of plasma, although it is in fact debatable whether or not the heat it emits equals that of plasma itself. It has swirling flames surrounding it and as noted above can be mistaken for golden/orange instead of its genuine colour white. It creates a large flash when it expands, and it becomes a much darker golden/orange when it is condensed into heat.
Colours

The Hikaeon particles ultimately have three different colours. Depending on their degree of life, for example, a hikaeon will shine a blinding golden/orange when in clear view of sunlight and active, this displays that it is at its peak in power and will not get any hotter. This is the hikaeons hottest form. It is the form Nova is almost always seen in or using.
The second colour is white, this is when a hikaeon travels at its fastest. It leaves behind a white blurry trail that is difficult to see and can easily be mistaken for a cloud. This colour is formed due to the hikaeons mass changing, with no mass the hikaeons have no requirements and become colourless. Hence white.
The third colour is only achievable through the use of Busoshoku Haki. When combined with Busoshoku Haki, the hikaeons become pure black, and harder than usual, this makes them extremely dangerous and a great combination with blades. It also makes a great hikaeon blade.
The Hikaeons Functions
The hikaeons primary function is to absorb light and heat (thus it absorbs photons and kinetic energy), this supplies it with the energy to start the splitting process. The splitting process is not only the Hikaeons main process, but it is in fact vital to its own survival. Whilst absorbing and energising from the light and heat absorbed from the sun, the splitting process is where each and every Hikaeon particle split into two, cloning itself. Thus increasing the source of Hikaeon particles, doubling the energy absorbed from heat and light. This process is the actual reason behind Novas fast regeneration ability after injuries caused by Haki and his ability to create well functioning clones for brief periods of times.
The main moment this process is shown for its true ability, is during Novas temporary state of death, where the dying hikaeons left in his body absorb the light and begin the splitting process, regenerating the tissue and organs that build up Novas body restoring his life and allowing him another chance. The splitting process has rarely been seen but is suspected to be the reason behind Novas seemingly inhuman recoveries and lack of scars.
However, the splitting process can only work during its exposure to sunlight, as if there is no sunlight, then there will be no light to be absorbed, meaning the Hikaeons will do nothing but split off and die dependant on how much energy is currently stored in them. The splitting process is very complicated but is also very simple at the same time. It is because of this that Hikaeon particles were able to propogate in the upper atmosphere, despite the potential for damage due to atmospheric disturbance.
They are semi-organic masless particles and it has been concluded that if they did infact have mass and a thousand years of suitable circumstances, then they could conceivably form primitive life forms. This is based on the fact they carry out a constant process of absorbing light and heat, mainly from the sun, outputting excess energy, which is 99.9999999999999999999999% of all energy put in (being massless, they hardly need any energy to sustain their process). The absorbed energy eventually allows them to multiply, which is recognised as the splitting process. Thus repairing the hikaeon membrane if it becomes damaged by anything. The released heat helps with the insulation of planets and because of the rounded shape of the layer they form in the atmosphere, light they release reflects outwards, making planets appear to shine.
Strengths
The user can generate, control and become hikaeon particles, these (Like the Noro Noro no Mi) are particles that have yet to be discovered, It is a massless matter that can illuminate and heat planets given enough time and energy. Which sometimes causes them to be mistaken for stars themselves. Hikaeon particles exist purely by absorbing heat and light from the sun, when they expand and move they give off a bright flash using the light as their movement speed (due to being massless it requires no energy to move them, allowing them to attain the speed of light), they also give off an unbelievably high heat ratio, perhaps even equal to that emitted by plasma, although this is only when they solidify together to release any excess heat drained.
This basically allows Novas body to expand as particles to another location at the speed of light causing a flash everytime he expands to travel and when he takes his defensive form by solidifying his particles he is untouchable due to extreme risk of melting/burning whatever is within a 3 foot kilometer radius. The solidifying allows Nova to attack enemies using Black flames capable of out burning Akainus magma or melting Magellans poison. It also allows him to form shapes such as miniature suns and bolts and even to a more artistic degree of wings and body shapes. This also gives off how Nova cannot use his speed and heat at the same time as it would be impossible to attain the speed of light whilst maintaining solidified mass, as such, Nova seems to be more vulnerable when travelling at the speed of light, than when he is fighting using the hikaeons as a weapon.
Nova has also managed to absorb visible light, allowing him to potentially change his color or even attain invisibility. However, this requires usage of the whole body and its particles and as such can not be used in collaboration with attacks or mobility. This ability allows Nova to hide and sneak around unseen, but this does not mean he is unheard. Although this is an incredible power, it does not mean he is 100% invisible, as in colder weather where you can see your own breath, the same can be said for this. If he loses focus or is somehow knocked while invisible, he can lose focus and in turn lose the invisibility.
Interestingly enough, because Gamma rays and X-rays are also just photons, this means that should the hikaeons come into any radiactive rays, they would in fact absorb them too. Meaning that Nova upon consumption of this fruit, became immune to radioactive rays and would never in fact notice when he's in a radioactive field. Yet this is not the most interesting part of the fruits many wonders, as radio waves are technically also light waves, Nova could theoretically broadcast himself through devices like walkie talkies, radios and phones. But unfortunately most of these devices are not in the one piece world and most of its technology is in fact Den Den Mushis.
Finally, despite its most vulnerable stage being from sundown to sunrise, there is a way to use the hikaeons powers at night, Nova must focus on absorbing light and heat from fires and lights that are available or surrounding him at night in the location he is at, although this does mean limited usage of his powers.
Weaknesses
The user suffers from the standard devil fruit weaknesses. But what Nova can also suffer from is the fact that both light and heat are easily dissipated by water. Which means that in effect, coating Nova in water or yourself in water, is an easy way to dissipate Novas much lighter hikaeon attacks. In a similar fashion to that of Monkey D. Luffy and the former Shikibukai, Crocodile. Other attributes (uncertain to be counted as weaknesses) is the hikaeons inability to phase through anything solid, despite being primarily massless and that they will reflect off of glass and mirrors.
Also, the powers of the Devil Fruit become near inactive and almost completely gone while the sun is not shining due to having no supply of light or heat for the Hikaeons to absorb. Without the light access the Hikaeons begin to slowly die off making regeneration and other incredible feats near impossible for Nova. This is also because the splitting process between Hikaeons deteriorate as the Hikaeons begin to absorb themselves for more energy. In the most easily put term, trying to use the hikaeons excessively during darkness would only lead to an implosion of the body and collapse of all the vital systems due to the stress put on the muscles and hikaeons. While they are still usable, they would never be anywhere near the intensity they bare during daylight.
Techniques
Basic Techniques
The basic techniques of the Hika Hika no Mi are as powerful as they can be devastating. Though creative yet simple, one mustn't underestimate its power or speed. These techniques are either the most commonly used, or the most simply thought out by Nova. Their levels of strength and defensive value differ greatly. However, listed below are the simplest and lesser costly techniques of the Hika Hika no Mi as stated by the user himself.
Techniques While Unarmed
Hika Hika no Tenshi no Tate (

光光の天使の盾

literally translated as Shine Shine Angelic Shield

?

) is a technique that Nova rarely uses, though when he does, it is purely for defensive purposes as it requires alot of energy. Nova uses his hikaeons cleverly by condensing them enough over his skin to create several layers of hardened hikaeons. The hikaeons then give off a rather intense heat that can melt almost any projectile coming towards it and can sometimes be confused for a second Nova as the layers can take the shape of another Nova. The primary downside of this technique is its energy expenditure and the lack of ability to see past it from either side. The primary power of this technique is its near impregnable defence, as attacking it or destroying it would lead to injury of self injury.
Hika Hika no Tenjō Ame (

光光の天上雨

literally translated as Shine Shine Heavens Rain

?

)

is a powerful and effective technique when used against masses mainly, but can be equally devastating against singular opponents. As it is as easily performed and requires little to no effort other than mathematical equations. That is, for angling anyway. As Nova basically aims his fingers or hand upward towards the air and fires several hundred shots of bullet shaped hikaeons. At first they are expanded and shoot up at light speed, but being released from the body they begin to condense and die off. As they do, their weight increases as does their heat and they plummet downward to the ground at extreme speed delivering heavy damage and large scale destruction to everything they hit. Representing a small form of a meteor shower, that hits the ground a shining rain of destruction, heavens rain.
Hika Hika no Tsubasa no Senshi (

光光の翼の戦士

literally translated as Shine Shine Warriors Wing

?

) is a technique where Nova forms his hikaeon particles into the shape of wings on his back. As to give him the ability of flight (Primarily because Nova cannot fly, merely rocket from place to place at lightspeed). He does this by forming four wings, two large wings from the shoulder blades and two smaller wings slightly beneath them. This is done by the splitting process, where the hikaeon particles split off to create more cells that can then increase the size or manipulate the shape of Nova. This technique allows Nova to fight combatants in aerial combat.
Hika Hika no Taishoku Hoshi (

光光の退色星

literally translated as Shine Shine Fading Star

?

) is a

powerful yet simple technique where Nova concentrates a small ball of hikaeon particles on the palm of his hand (Much like that of Portgas D. Aces technique called Dai Enkei: Entei but several times smaller). He continues to focus on amplifying it until it gets to a fairly decent size. Once it has reached its right size, it begins to spiral at a blinding speed as Nova then throws it at the enemy or structure. It can act one of two ways depending on how its formed. The first way would be that it acts as a timed bomb of sorts, once thrown it burns into whatever it hits, spiralling and eradicating anything in contact with it until it then begins to fade. Once fading to a dark or transparent enough ball it explodes releasing several thousand condensed hikaeon particles all around it, acting like a cluster bomb. The second form it can take is as an incendiary bomb, where it burns away anything it comes into contact with, finally fading until it can explode into a burst of flames engulfing everything around it. However, this is called the Fading Star as it fades incredibly quickly with a sustaining time of between 5-10 seconds. This is because the Hikaeon Particles cannot sustain themselves in such a small portion. Similar to how a sun can only sustain itself due to its incredibly large size.
Hika Hika no Eien no Hoshi (

光光の永遠の星

literally translated as Shine Shine Everlasting Star

?

)

is a technique of almost completely similar qualities to Taishoku Hoshi. As Nova starts with the same focused point on his hand and starts spiralling hikaeon particles on that focused point. Until the spiral begins to expand more and more becoming a gigantic ball of hikaeon particles dwarfing Nova. As he holds it above his head it begins to resemble a miniature sun. This technique is also considered a twin of Portgas D. Aces technique, Dai Enkei: Entei. However, one odd thing is that this technique is self sustaining and will continue to devastate until absorbed by Nova. The primary reason it is able to sustain itself is due to its incredibly large size. Nova throws it in an attempt to obliterate and annihalate those in its path. It has the strength to be one of his strongest techniques, yet its ability to sustain itself and re-energise Nova when he absorbs it make it one of his most lethal moves and easiest to perform. The ability itself can devastate an entire marine base should Nova be given enough time to charge it. As the only downside to this technique, is the time it takes to create and focus the hikaeon particles into such a large spiralling sphere.
Hika Hika no Kōsoku (

光光の光速

literally translated as Shine Shine Lightspeed

?

) is Novas most commonly used and witnessed techniques. It is where Nova expands the particles in his body, allowing him to travel at light speed in any direction he chooses. Using his shockingly impressive instincts, Nova is able to come out of lightspeed and change direction at the precise time for opportune strikes and counter attacks. It is this technique that gives Nova his shockingly supreme fighting power. Allowing him to dominate most battlefields and fights with relative ease. As other than the Pika Pika no Mi, there are little to almost no combatants that are able to keep up with a speed of this level.
Techniques With Sword
Hika Hika no Rūnseibā (

光光のルーンセイバー

literally translated as Shine Shine Rune Saber

?

) is a technique where Nova practically imbues his Hikaeon's upon the sharp side of the blade. There are only two form's of "Rūnseibā", but there is also two technique's created through "Rūnseibā":
Techniques With Attitude Adjuster
These techniques are powerful enough to burn away any obstacle or enemy with a precise enough shot. These techniques however can only be used with the weapon known as the Attitude Adjuster, created by Bane Shotman the gunsmith of the Skyline Pirates. The weapon is linked solely to the DNA of Nova Blade and is only compatible with the Hikaeon particles. Any other attempts to use it with anothers DNA will only trigger the self destruct mechanism which releases several thousand mini seastone shards at an explosive speed that will impact them. These techniques were inspired by Rose Diamond and as such, are named after a white Rose.
Advanced Techniques
Advanced Techniques of the Hika Hika no Mi don't necessarily mean the strongest of techniques. They more or less mean the kind of techniques that require planning or some form of sophisticated methods. Such as pre-requirements like a boost or charge up. They are more creative techniques than that of the basic techniques, but once again this does not mean they are all more powerful, some of them can just be more useful than others. Listed below are the more sophisticated and costly techniques of the Hika Hika no Mi.
While Unarmed
Hika Hika no Ryūsei (

光光の流星

literally translated as Shine Shine Meteor

?

) is a technique of similar

devastation and scale as Hika Hika no Eien no Hoshi. As this technique requires Nova to already have formed the Everlasting Star in the palm of his hand. Though, rather than simply throwing it at the opponent or structure, he launches it into the air with astonishing strength and precision. Where the technique then becomes predictable, as it can rocket down as a singular mass and cause a large cataclysmic result, though with only one impact. Or it can split off multiple smaller spheres in a similar fashion to a meteor, increasing the amount of devastation and the amount of zones impacted. It can also split off completely into numerous clusters of smaller hikaeon spheres and become a more destructive and larger scaled version of Hika Hika no Tenjō Ame. It requires a large amount of energy and calculation as if used it could potentially catch and injure or kill allies in its reach, it is because of this that the technique is rarely if ever used. Save for when Nova is fighting alone.
Hika Hika no Ariesu (

光光のアリエス

literally translated as Shine Shine Aries

?

) is a technique where Nova arches forward as his legs begin to shine brightly as if charging. His whole body begins to glow as the area surrounding him gets hotter and hotter, the air begins to combust as an intense fireball surrounds Nova. The ground beneath his feet combusts as the explosion between the ground and his feet launch Nova forward toward the enemy. He charges straight through his opponents head first as a giant fireball, ramming through the opponents in one powerful ram. It is named after the Aries Zodiac sign as this technique acts in the same ferocity as that of a charging Ram.
Hika Hika no Taurosu (

光光のタウロス

literally translated as Shine Shine Taurus

?

) is a powerful ramming technique where Nova begins to force hikaeons into several condensed layers over his skin, whilst charging the soles of his feet with hikaeon energy. When the hikaeons condense they form a black rock like armour surrounding Novas body. As he begins to emanate heat from the condensed Hikaeons, it creates a powerful and lethal heat shield surrounding him, with which he then releases the energy accumulated at the soles of his feet and charges at a high levelled mach speed at the opponent or obstructions. Ramming through everything like an unstoppable bull, smashing and burning all who come into contact with him. The technique is named after the Taurus Zodiac for its bull like appearance and behaviour.
Hika Hika no Jemini (

光光のジェミニ

literally translated as Shine Shine Gemini

?

) is a technique Nova uses quite often and is quite a troublesome one to keep up with. As with this technique, Nova begins to accelerate the splitting process of the hikaeon cells, and begins cloning himself. Creating several copies of himself he uses them to fight alongside him as powerful allies that move on the same instincts as Nova. They move through the controls Nova gives them and the thoughts he transmits to the particles they are accumulated of. The clones are however more noticeable than Nova himself, as the clones give off a relatively bright glow, some even shine depending on the number of particles that are used to create the clone. The technique is named after the Gemini Zodiac, as they are known as the twins. This technique mimics that by creating numerous 'twins' of Nova.
Hika Hika no Kyansā (

光光のキャンサー

literally translated as Shine Shine Cancer

?

) is a restrictive technique where Nova charges hikaeons into a focused point on the palm of his hands, and fires crab shaped bursts of hikaeons at multiple enemies. These crabbed shape hikaeon bursts have two arms with two claws on each side, once they hit the opponent the sheer force of the blow winds the opponent, as the arms wrap around the opponent that they hit. Once the crab is locked onto its target, it begins to shine brightly as it charges itself, slowly burning into the opponent as the back condenses it's hikaeons into a hard black shell, making it all the more difficult for the targets its latched onto to break free. Once Nova has clicked his fingers, the crabs begin to explode one by one. Delivering fatal or devastating damage to those caught in its claws. If by chance the opponent were to dodge the crab bursts, should the pincers hit them it would slice straight through them like knife to butter.This technique is named after the crab Zodiac, Cancer. For its similarity with that of a crabs hard shell and strong claws.
Hika Hika no Barugo (

光光のバルゴ

literally translated as Shine Shine Virgo

?

) is a technique that wears down opponents over a degree of time. Primarily by utilizing the frailty of the human body and the extremely draining heat created by condensed Hikaeons. To perform this technique, Nova releases numerous hikaeon cells into the air at a constant pace. These hikaeons slowly begin to condense and burn out one at a time. As this process is performed thousands and thousands of times within seconds, the temperature slowly yet steadily rises until it reaches scolding degrees. Though the hikaeons are at particle size and near impossible to be seen, this allows for Nova to slowly change the surrounding temperature and lighting without notifying his opponent immediately. By the time the opponent notices this technique is in play and nature is not just performing its same old tricks, they would already be struggling in puddles of sweat and fatigue. Nova uses this technique to wear down stronger opponents that would give him a long fight, in attempt to decrease the amount of time consumed in battle with one or few people. This technique is named after the Virgo Zodiac, as the Zodiac is known to have analysis, cleverness and trickery among its meanings. This technique is a combination of those as Nova can give off the impression he is heavily wounded or injured and give the opponent a false sense of hope/opening. Yet this only leads to the opponent trying to take lead on that, creating several openings for Nova to strike on as this technique takes effect.
Hika Hika no Raibura (

光光のライブラ

literally translated as Shine Shine Libra

?

) is more of a self repairing technique and can be used quite often dependant on the circumstance. As this technique is where Nova accellerates the splitting process of the hikaeons in his body on wounded areas. For example should Nova lose an arm or a hole be made in his body, by using his hikaeons splitting process he is able to quickly and immediately regenerate these areas. Primarily dependant on either the level of energy he has stored, or the location of the sun in the sky. For example, on a desert island where the sun is strong and at its best, Novas regeneration using this technique is almost instantaneous. It is primarily thanks to this technique that Nova can shrug off injuries that to others would usually be life threatening and can carry on the fight despite recieving powerful blows. This technique is named after the Libra Zodiac more easily associated with measuring Scales, for its ability to change the scales of favour for those in combat. Giving those adept in combat under the pressure of heatwaves and burning level temperatures a heavy advantage on opponents who either don't or are more adept to the cold.
Hika Hika no Sukōpion (

光光のスコピーオン

literally translated as Shine Shine Scorpio

?

)
Hika Hika no Sajitariusu (

光光のサジタリウス

literally translated as Shine Shine Sagittarius

?

)
Hika Hika no Kapurikōn (

光光のカプリコーン

literally translated as Shine Shine Capricorn

?

)
Hika Hika no Akueriasu (

光光のアクエリアス

literally translated as Shine Shine Aquarius

?

)
Hika Hika no Pisukesu (

光光のピスケス

literally translated as Shine Shine Pisces

?

)
When with Sword
Hika Hika no Junsui Ha (光光の純粋刃, literally meaning Shine Shine Pure Blade?) is a blade created entirely from Hikaeon Particles, and is an extremely dangerous weapon with two forms. The first form is created purely from expanded hikaeon's, displaying only its light form. Making it prepostorously light and agile, but lacks destructive force capable of destroying bigger things such as boulders and buildings. Instead it makes up with it's unbeatable speed and blinding light. Often defeating the opponent by just its mere shining instead of clashing with them. The second form is rarely used as it is a more dangerous form, it is capable of reaching temperatures above 100,000 degrees melting almost all blades that clash with it, and ultimately breaking numerous defences with ease, as if slicing cake. It has proven to be Nova's second most powerful weapon, only second two the 'Gravekeeper's Scythe' which was ultimately used to defeat the monstrous villain known as Monster. Where as this blade was capable of allowing Nova to fight toe to toe with Admiral Borsalino, a well known and powerful Admiral of the Marines.
When using Attitude Adjuster
Ultimate Technique's
Unlike the Basic and Advanced techniques of the Hika Hika no Mi, the Ultimate techniques are on a whole other level, in terms of power and sophistication. They are also quite costly and will leave the user somewhat fatigued, since they require an immense amount of concentration or energy, as well as swift preparation. These are more of a 'last resort' set of techniques, used in an attempt to utterly eradicate the opponent. Listed below are the most powerful methods of usage for the Hika Hika no Mi.
Solo Techniques
Tsu hoshi no ō: Reo (つ星の王:レオ, literally translated as King of the Stars: Leo?)
Tarutarosu: Kamigami no keimu (タルタロス:神々の刑務, literally translated as Tartarus: Prison of the Gods?)
Shi no Hanji: Minosu (

死の判事:ミノス

literally translated to Judge of Death: Minos

?

)
Shi no Hanji: Aiakosu (

死の判事:アイアコス

literally translated to Judge of Death: Aeacus

?

)
Shi no Hanji: Radamantasu (

死の判事:ラダマンタス

literally translated to Judge of Death: Rhadamanthus

?

)
Combined with John Jango De Trezieme
Hika no Jisa Setsuzoku: Kojin no Gyakusetsu (literally meaning Shine Time Difference Union: Light God's Paradox). This technique was an immensely powerful combination attack used by both Nova Blade and John Jango de Triezieme against the High Priest Hikobatsu. It was formed by Jango forming an air vortex by Shandian Jujitsu, which they both charged up with their respective logia elements before launching it at the target.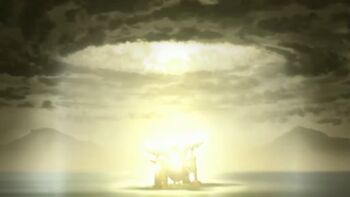 During it's first use, the target was actually a cloud of energised hikaeon particles and time rifts that had formed above the fighters. The attack was used to pull it back down, overloading Hikobatsu's "Perfect Defense". In which it actually proved too powerful, destroying the Priest's defence, but also pushing down through the clouds. The force of the attack caused an earthquake accross the entire island, as well as splitting the heavens a second time. Later on, John Jango discovered that an entire island had been blasted into a huge crater after being hit head on by this attack.
Combined with Rose Diamond
Combined with ???????
Trivia
This fruit was originally intended to become a Sun Logia, but instead was created into a brand new particle.
The name Hikaeon came from the shortened version of Hikaru (shine) combined with the word aeon in order to seem legit. It blended nicely with the Devil Fruit as Hikaru stands for shine, there for Hika Hika no Mi act's as both the Shine Shine fruit, and Hikaeon Hikaeon fruit.
The Hikaeons were originally to be called Shinthrope, but the name was disgarded when three new options were created. Hikanium, Hikaeon or Hikanom each one had epicness of its own to carry, however Hikaeon was the chosen overall name.
Although the original concept of the Hika Hika no Mi was created by 1NF3RNO, it has actually become an interesting fruit through the combined efforts of several users. Those users are FoolishMortalFOOL, 13th madman, Powerhouse411, Kai-De-Avalon and Marcus Junior. As such this segment stands as a credit and a gigantic thank you to those incredibly intelligent users. Mucho Gracias!
Devil Fruit drawn by the cool FadingSoul.
External Links
Devil Fruits
Paramecia
Fanon:
Afuro Afuro no Mi •

Agaru Agaru no Mi

• Ai Ai no Mi • Aiborii Aiborii no Mi • Aidoru Aidoru no Mi • Akirasu Akirasu no Mi • Aku Aku no Mi • Akumu Akumu no Mi • Ama Ama no Mi • Amba Amba no Mi • Ana Ana no Mi • Aoi Aoi no Mi • Ara Ara no Mi • Aren Aren no Mi • Ase Ase no Mi • Aso Aso no Mi • Asobu Asobu no Mi • Ato Ato no Mi • Atsuryoku Atsuryoku no Mi • Azure Azure no Mi • Bagu Bagu no Mi • Baito Baito no Mi • Baizo Baizo no Mi • Baka Baka no Mi • Bakuha Bakuha no Mi •

Ban Ban no Mi

• Bannou Bannou no Mi • Banrai Banrai no Mi • Barans Barans no Mi • Bareisetu Bareisetu no Mi •

Bataa Bataa no Mi

•

Bijo Bijo no Mi

• Biri Biri no Mi • Birudo Birudo no Mi • Bitto Bitto no Mi • Boa Boa no Mi • Boeki Boeki No Mi • Bokki Bokki no Mi • Boko Boko no Mi • Boku Boku no Mi, Model: Toon • Boku Boku no Mi, Model: Monkey •

Boku Boku no Mi, Model: Jiang Shi

• Boruto Boruto no Mi • Boson Boson no Mi Model: Higgs • Bosu Bosu no Mi • Buho Buho no Mi • Buku Buku no Mi • Bunkai Bunkai no Mi • Bunkatsu Bunkatsu no Mi • Bunkou Bunkou no Mi •

Bunshi Bunshi no Mi

• Buredo Buredo no Mi • Buru Buru no Mi • Busou Busou no Mi • Buza Buza no Mi • Byoutai Byoutai no Mi • Chakku Chakku no Mi • Chatto Chatto no Mi • Cheap Trick Cheap Trick Fruit • Chen Chen no Mi • Chi Chi no Mi • Chibi Chibi no Mi • Chika Chika no Mi • Chikan Chikan no Mi • Chimei Chimei no Mi •

Chiyu Chiyu no Mi

• Chizu Chizu no Mi • Chokoreto Chokoreto no Mi • Choutsugai Choutsugai no Mi • Chozo Chozo no Mi • Chou Chou no Mi • Daburu Daburu no Mi • Daho Daho no Mi • Daku Daku no Mi • Dangan Dangan no Mi • Dashi Dashi no Mi • Dassui Dassui no Mi • Deba Deba no Mi • Deji Deji no Mi • Denka Denka no Mi • Dian Dian no Mi • Doki Doki no Mi • Dokuke Dokuke no Mi • Dona Dona no Mi • Dondo Dondo no Mi • Dorei Dorei no Mi • Dosu Dosu no Mi • Douteki Douteki no Mi • Dovah Dovah no Mi • Dēta Dēta no Mi • Earo Earo no Mi • Eda Eda no Mi • Ei Ei no Mi •

Eika Eika no Mi

• Eko Eko no Mi • Emo Emo no Mi • Emi Emi no Mi • Enjeru Enjeru no Mi • Feizu Feizu no Mi • Fomu Fomu no Mi • Foosu Foosu No Mi • Fuki Fuki no Mi • Fuku Fuku no Mi • Fukugen Fukugen no Mi • Funjin Funjin no Mi • Fura Fura no Mi • Furatto Furatto No Mi • Furoura Furoura no Mi • Fusen Fusen no Mi • Futsu Futsu no Mi • Fuzei Fuzei no Mi • Gaia Gaia no Mi • Gama Gama no Mi • Gamme Gamme no Mi • Gattai Gattai no Mi • Gazō Gazō no Mi • Geki Geki no Mi • Genki Genki no Mi • Genshi Genshi no mi • Gensho Gensho no Mi • Genso Genso no Mi • Giga Giga no Mi • Giri Giri no Mi • Giga Giga no Mi • Giri Giri no Mi • Girochin Girochin no Mi • Giten Giten no Mi • Gokuin Gokuin no Mi • Goldfreed/Seigyo Seigyo no Mi • Grow Grow no Mi • Gumo Gumo no Mi • Guri Guri no Mi • Gurisu Gurisu no Mi • Guru Guru no Mi • Gurō Gurō no Mi • Guujin Guujin no Mi • Gyagu Gyagu no Mi • Gyaku Gyaku no Mi • Gyu Gyu no Mi • Gyuto Gyuto no Mi • Hada Hada no Mi • Hadaka Hadaka no Mi • Hage Hage no Mi • Hahen Hahen no Mi • Hakkyou Hakkyou no Mi • Hakuri Hakuri no Mi • Hame Hame no Mi • Hamon Hamon no Mi • Hane Hane no Mi • Hanpatsu Hanpatsu no Mi • Hansu Hansu no Mi • Hara Hara no Mi • Hari Hari no Mi • Harou Harou no Mi • Haruoin Haruoin no Mi • Hazumi Hazumi no Mi • Hebereke Hebereke no Mi • Hebu Hebu no Mi • Heddo Heddo No Mi • Hedo Hedo no Mi •

Heiko Heiko no Mi

• Henko Henko no Mi • Henshi Henshi no Mi • Henshin Henshin no Mi • Hentai Hentai no Mi • Hentsuu Hentsuu no Mi • Hiba Hiba no Mi • Hibiki Hibiki no Mi • Hiku Hiku no Mi • Hiraku Hiraku no Mi • Hisu Hisu no Mi • Hon Hon no Mi • Hone Hone no Mi • Honsho Honsho no Mi • Horu Horu no Mi • Hotai Hotai no Mi • Houki Houki no Mi • Houmon Houmon no Mi • Houritsu Houritsu no Mi • Hyo Hyo no Mi • Ibi Ibi no Mi • Ichiban Ichiban no Mi • Iji Iji no Mi • Ikari Ikari no Mi • Ikioi Ikioi no Mi • Inferuno Inferuno no Mi • Inku Inku no Mi • Inyo Inyo no Mi • Irege Irege no Mi • Iro Iro no Mi • Iru Iru no Mi • Ishi Ishi no Mi • Ishoku Ishoku no Mi • Ishu Ishu no Mi • Itai Itai no Mi • Itami Itami no Mi •

Ito Ito no Mi

• Jaku Jaku no Mi • Jala Jala no Mi • Janpu Janpu no Mi • Jigen Jigen no Mi •

Jigoku Jigoku no Mi

• Jingen Jingen no Mi • Jinmon Jinmon no Mi • Jinsei Jinsei no Mi • Jiten Jiten no Mi • Joker/Yume Yume no Mi • Jori Jori no Mi • Josei Josei no Mi • Joumae Joumae no Mi • Juhi Juhi no Mi • Juuni Juuni no Mi • Juzo Juzo no Mi • Jūtan Jūtan no Mi • Kaada Kaada no Mi • Kabe Kabe no Mi • Kabu Kabu no Mi • Kagenui Kagenui no Mi • Kai Kai no Mi • Kaichū Kaichū no Mi • Kaigara Kaigara no Mi • Kaiki Kaiki no Mi • Kaimen Kaimen no Mi • Kairo Kairo no Mi • Kaisei Kaisei no Mi • Kakka Kakka no Mi • Kaku Kaku no Mi • Kakumau Kakumau no Mi • Kamen Kamen no Mi • Kami Kami no Mi, Model: Chuck Norris • Kamoji Kamoji no Mi • Kanji Kanji no Mi • Kanken Kanken no Mi • Kanojo Kanojo no Mi • Kanon Kanon no Mi, Model: Doflamingo • Kanrui Kanrui no Mi • Kansou Kansou no Mi •

Kara Kara no Mi

• Karai Karai no Mi • Karori Karori no Mi • Karu Karu no Mi •

Karushiumu Karushiumu no Mi

• Kasa Kasa no Mi • Kashaku Kashaku no Mi • Kata Kata no Mi • Katto Katto no Mi • Kawa Kawa no Mi • Kawaii Kawaii no Mi • Kawaru Kawaru no Mi • Kayaku Kayaku No Mi • Kaze Kaze no Mi • Keisha Keisha no Mi • Kemi Kemi no Mi • Ken Ken no Mi • Kesshou Kesshou no Mi • Ketsu Ketsu no Mi • Kettei Kettei no Mi • Ki Ki no Mi • Kiba Kiba no Mi • Kieru Kieru no Mi • Kiiin Kiiin no Mi • Kikai Kikai no Mi • Kikan Kikan no Mi •

Kiki Kiki no Mi

•

Kiko Kiko no Mi

• Kimu Kimu no Mi • Kimyona Kimyona no Mi • Kina Kina no Mi • Kinko Kinko no Mi • Kioku Kioku no Mi • Kirei Kirei no Mi • Kiru Kiru no Mi • Kisei Kisei no Mi • Kiseru Kiseru no Mi • Kisu Kisu no Mi • Kitai Kitai no Mi • Kitei Kitei no Mi • Koda Koda no Mi • Koe Koe no Mi • Koete Koete no Mi • Koin Koin no Mi • Koju Koju no Mi • Kokami Kokami no Mi • Kokkei Kokkei no Mi • Kokudo Kokudo no Mi • Konki Konki no Mi • Kori Kori no Mi • Koro Koro no Mi • Koroni Koroni no Mi • Koso Koso no Mi • Koto Koto no Mi • Kotsuzui Kotsuzui no Mi • Kouryou Kouryou no Mi • Kubomi Kubomi no Mi • Kuda Kuda no Mi •

Kujo Kujo no Mi

•

Kuka Kuka no Mi

• Kukku Kukku no Mi •

Kurasi Kurasi no Mi

• Kurasshu Kurasshu no Mi • Kuro Kuro no Mi • Kurohi Kurohi no Mi •

Kurono Kurono no Mi

• Kurōn Kurōn no Mi • Kyofu Kyofu no Mi • Kyoushin Kyoushin no Mi • Kyuugi Kyuugi no Mi • Loki Loki no Mi • Macchi Macchi no Mi • Maga Maga no Mi • Magata Magata no Mi • Mahō Mahō no Mi • Maki Maki no Mi • Mana Mana no Mi • Manga Manga no Mi • Mari Mari no Mi • Marubori Marubori no Mi • Mashu Mashu no Mi • Masu Masu no Mi • Masuku Masuku no Mi • Mata Mata no Mi • Matsu Matsu no Mi • Mazui Mazui no Mi • Mecha Mecha no Mi • Meijiru Meijiru no Mi • Meno Meno no Mi • Meshi Meshi no Mi • Micro Micro no Mi • Minion Minion no Mi, Model: Goblin • Minion Minion no Mi, Model: Okama • Minion Minion no Mi, Model: Tengu •

Mira Mira no Mi

• Misuto Misuto no Mi • Mita Mita no Mi • Modor Modor no Mi • Moeru Moeru no Mi • Moko Moko no Mi • Mondai Mondai no Mi • Moufu Moufu no Mi • Muku Muku no Mi • Mune Mune no Mi • Mura Mura no Mi • Musha Musha no Mi • Mīmu Mīmu no Mi • Nabe Nabe no Mi • Nagi Nagi no Mi • Naiha Naiha no Mi • Naku Naku no Mi • Nama Nama no Mi •

Namba Namba no Mi

• Nandemo Nandemo no Mi • Nanten Nanten no Mi • Nari Nari no Mi • Nawa Nawa no Mi • Nazo Nazo no Mi • Nebai Nebai no Mi • Negai Negai no Mi • Neji Neji no Mi • Nen Nen no Mi • Neneki Neneki no Mi •

Netsu Netsu no Mi

• Nibun Nibun no Mi • Niji Niji no Mi • Niju Niju no Mi, Model: Heart • Ningyou Ningyou no Mi • Nioi Nioi no Mi • Nirvana Nirvana no Mi • Noroi Noroi no Mi • Noukou Noukou no Mi • Nui Nui no Mi • Nuu Nuu no Mi • Obake Obake no Mi • Oboe Oboe no Mi • Oidasu Oidasu no Mi • Oishii Oishiii no Mi • Omamori Omamori no Mi • Omo Omo no Mi • Omocha Omocha no Mi • Omosa Omosa no Mi • Ondan Ondan no Mi • Ondo Ondo no Mi • Ongaku Ongaku no Mi • Onjun Onjun no Mi • Ora Ora no Mi • Oru Oru no Mi • Oshi Oshi no Mi • Pai Pai no Mi • Pin Pin no Mi • Pota Pota no Mi • Pozu Pozu no Mi • Psi Psi no Mi • Puni Puni no Mi • Puro Puro no Mi • Purē Purē no Mi • Qwan Qwan no Mi • Rafu Rafu no Mi • Rain Rain no Mi • Rakuin Rakuin no Mi • Ran Ran no Mi • Reibei Reibei no Mi • Reikei Reikei no Mi • Renge Renge no Mi • Rensa Rensa no Mi • Resu Resu no Mi • Rijekuto Rijekuto No Mi • Rikugun Rikugun no Mi • Rimo Rimo no Mi • Risa Risa no Mi • Robo Robo no Mi • Rojiumu Rojiumu no mi • Roketto Roketto no Mi • Rokku Rokku no Mi • Ronbun Ronbun no Mi • Rotto Rotto no Mi • Rouka Rouka no Mi • Roze Roze no Mi • Ruru Ruru No Mi • Ruun Ruun no Mi • Ryouchi Ryouchi no Mi •

Ryusei Ryusei no Mi

• Ryuu Ryuu no Mi • Sacchi Sacchi no Mi • Saimin Saimin no Mi • Saizu Saizu No Mi • Sake Sake no Mi • Saku Saku no Mi • Samo Samo no Mi • Samui Samui no Mi • Sanjaku Sanjaku no Mi • Sanso Sanso no Mi • Saru Saru no Mi • Sasa Sasa no Mi • Sasshou Sasshou no Mi • Sawa Sawa no Mi • Sebu Sebu no Mi • Seigen Seigen no Mi • Seimei Seimei no Mi • Sekai Sekai no Mi • Seken Seken no Mi • Seko Seko no Mi • Seme Seme no Mi • Sen Sen no Mi •

Senjuugan Senjuugan no Mi

• Senkou Senkou no Mi • Senna Senna no Mi • Sennou Sennou no Mi • Senro Senro no Mi • Senzei Senzei no Mi • Senzo Senzo no Mi • Shaffuru Shaffuru no Mi •

Shareedo Shareedo no Mi

• Sheru Sheru no Mi • Sheru Sheru no Mi, Model: Dials • Shifuto Shifuto no Mi • Shiki Shiki no Mi • Shin Shin no Mi • Shindo Shindo no Mi • Shini Shini no Mi • Shinjitsu Shinjitsu no Mi • Shinkei Shinkei no Mi • Shinteki Shinteki no Mi • Shiro Shiro no Mi • Shirudo Shirudo no Mi • Shiryoku Shiryoku no Mi • Shiryou Shiryou no Mi • Shokki Shokki no Mi • Shokubun Shokubun no Mi • Shokyo Shokyo no Mi • Shoujun Shoujun no Mi • Shuuchuu Shuuchuu no Mi • Shuumi Shuumi no Mi • Shīdo Shīdo no Mi •

Sinju Sinju no Mi

• Soku Soku no Mi • Sora Sora no Mi • Sorikata Sorikata no Mi • Soroi Soroi no Mi •

Sosen Sosen no Mi

• Soukon Soukon no Mi • Sozo Sozo ni Mi • Step Step no Mi • Sugoi Sugoi no Mi •

Sugu Sugu no Mi

• Suika Suika no Mi • Suimin Suimin no Mi • Suitchi Suitchi no Mi •

Suk Suk no Mi

• Sumuji Sumuji no Mi • Supairaru Supairaru no Mi • Supia Supia no Mi •

Supin Supin no Mi

• Supo Supo no Mi • Suu Suu no Mi •

Suxi Suxi no Mi

• Taba Taba no Mi • Taberu Taberu no Mi • Taiho Taiho no Mi • Taiyo Taiyo no Mi • Taka Taka no Mi • Taku Taku no Mi • Tanagumo Tanagumo no Mi • Tanzou Tanzou No Mi • Tatchi Tatchi no Mi • Tate Tate no Mi • Teiku Teiku no Mi • Tekna Tekna no Mi • Tekuno Tekuno no Mi • Tengatai Tengatai no Mi • Tenketsu Tenketsu no Mi • Tensai Tensai no Mi • Tera Tera no Mi • Ti Ti No Mi • Todana Todana no Mi • Togu Togu no Mi • Tojita Tojita no Mi • Tokei Tokei no Mi • Toppu Toppu no Mi • Toru Toru no Mi • Tosshin Tosshin no Mi • Towa Towa no Mi • Tsuki Tsuki no Mi • Tsuku Tsuku no Mi • Tsume Tsume no Mi • Tsuru Tsuru no Mi •

Tētsu Tētsu no Mi

• Uchuu Uchuu no Mi • Uta Uta no Mi • Uzu Uzu no Mi • Wepun Wepun No Mi • Xiba Xiba no Mi • Yajuu Yajuu no Mi • Yaku Yaku no Mi • Yama Yama no Mi • Yamai Yamai no Mi •

Yogu Yogu no Mi

• Yoku Yoku no Mi • Yomenai Yomenai no Mi • You You no Mi • Youmei Youmei no Mi • Youryou Youryou no Mi • Yu Yu no Mi • Yumiya Yumiya no Mi • Yusu Yusu no Mi • Yuuguu Yuuguu no Mi • Zai Zai no Mi • Zaigo Zaigo no Mi, Model: Envy • Zaigo Zaigo no Mi, Model: Gluttony • Zaigo Zaigo no Mi, Model: Greed • Zaigo Zaigo no Mi, Model: Lust • Zaigo Zaigo no Mi, Model: Pride • Zaigo Zaigo no Mi, Model: Wrath • Zaigo Zaigo no Mi: Model Sloth • Zenchou Zenchou no Mi • Zettai Zettai no Mi • Zoku Zoku no Mi •

Zwei Zwei no Mi

• Zūmu Zūmu no mi • Ōtobai Ōtobai no Mi
Zoan
Fanon:
Aus Aus no Mi, Model: Tasmanian Devil • Batto Batto no Mi • Batto Batto no Mi, Model: Fruit Bat • Batto Batto no Mi, Model: Myotis Myotis •

Danu Danu no Mi, Model: Brahma

• Danu Danu no Mi, Model: Chandra • Danu Danu no Mi, Model: Durga • Danu Danu no Mi, Model: Ganesh • Danu Danu no Mi, Model: Ganga • Danu Danu no Mi, Model: Garuda •

Danu Danu no Mi, Model: Great Mother Kāli

• Danu Danu no Mi, Model: Hanuman • Danu Danu no Mi, Model: Krishna • Danu Danu no Mi, Model: Lakshmi •

Danu Danu no Mi, Model: Mahishasura

• Danu Danu no Mi, Model: Narasimha • Danu Danu no Mi, Model: Rama • Danu Danu no Mi, Model: Ravana • Danu Danu no Mi, Model: Surya •

Danu Danu no Mi, Model: Tridevi

•

Danu Danu no Mi, Model: Trimurti

• Danu Danu no Mi, Model: Varaha •

Danu Danu no Mi, Model: Vishnu

• Dino Dino no Mi, Model: Ankylosaurus • Dino Dino no Mi, Model: Archaeopteryx •

Dino Dino no Mi, Model: Kentrosaurus

•

Dino Dino no Mi, Model: Pterodactyl

• Dino Dino no Mi, Model: Quetzalcoatlus • Dino Dino no Mi, Model: Spinosaurus •

Dino Dino no Mi, Model: Triceratops

• Dino Dino no Mi, Model: Tyrannosaurus Rex •

Dino Dino no Mi, Model: Utahraptor

• Dino Dino no Mi, Model: Velociraptor • Eki Eki no Mi, Model: Aran rock lizard • Eki Eki no Mi, Model: Armadillo • Eki Eki no Mi, Model: Chameleon • Eki Eki no Mi, Model: Gecko • Eki Eki no Mi, Model: Iguana • Eki Eki no Mi, Model: Komodo Dragon • Eki Eki no Mi, Model: Montseny brook newt • Eki Eki no Mi, Model: Salamander (Legendary) • Fugu Fugu no Mi • Futagoza Futagoza no Mi • Gama Gama no Mi, Model: Ferreret • Gama Gama no Mi, Model: Toad • Guma Guma no Mi • Gumo Gumo no Mi • Gāgoiru Gāgoiru no Mi • Hachi Hachi no Mi • Hamusuta Hamusuta no Mi, Model: Womble • Hebi Hebi no Mi, Model: Basilisk • Hebi Hebi no Mi, Model: Black Mamba • Hebi Hebi no Mi, Model: Glycon • Hebi Hebi no Mi, Model: Hornsman • Hebi Hebi no Mi, Model: Inland Taipan • Hebi Hebi no Mi, Model: Nāga   Hebi Hebi no Mi, Model: Salamander • Hebi Hebi no Mi, Model: Water Moccasin •

Hebi Hebi no Mi, Model; Hebikami

• Hebi Hebi no Mi,Model: Yamata No Orochi • Hebi Hebi no Mi: Cobra • Heka Heka no Mi • Hidora Hidora no Mi • Hippalectryon Hippalectryon no Mi • Hiro Hiro no Mi • Hit Hito no Mi Model: Machai • Hito Hito No Mi Model: Yuki Onna • Hito Hito no Mi Model: Boogeyman • Hito Hito no Mi, Model: Acan • Hito Hito no Mi, Model: Aisutaitan • Hito Hito no Mi, Model: Akagashira • Hito Hito no Mi, Model: Aka Manto • Hito Hito no Mi, Model: Angel • Hito Hito no Mi, Model: Asura • Hito Hito no Mi, Model: Barbatus • Hito Hito no Mi, Model: Cyclops •

Hito Hito no Mi, Model: Daiakuma

• Hito Hito no Mi, Model: Daisei •

Hito Hito no Mi, Model: Dark Elf

• Hito Hito no Mi, Model: Death • Hito Hito no Mi, Model: Demon • Hito Hito no Mi, Model: Djinn • Hito Hito no Mi, Model: Dryad • Hito Hito no Mi, Model: Enyo • Hito Hito no Mi, Model: Fairy •

Hito Hito no Mi, Model: Fallen Angel

• Hito Hito no Mi, Model: Famine • Hito Hito no Mi, Model: Fudo Myoo •

Hito Hito no Mi, Model: Gabriel

• Hito Hito no Mi, Model: Ghost • Hito Hito no Mi, Model: Golem • Hito Hito no Mi, Model: Hachiman • Hito Hito no Mi, Model: Katsura otoko • Hito Hito no Mi, Model: Kongorikishi • Hito Hito no Mi, Model: Leprechaun • Hito Hito no Mi, Model: Light Elf • Hito Hito no Mi, Model: Lilith • Hito Hito no Mi, Model: Longarm •

Hito Hito no Mi, Model: Lucifer

• Hito Hito no Mi, Model: Medusa • Hito Hito no Mi, Model: Mummy • Hito Hito no Mi, Model: Nymph • Hito Hito no Mi, Model: Pestilence • Hito Hito no Mi, Model: Rusalka • Hito Hito no Mi, Model: Senju Kannon •

Hito Hito no Mi, Model: Shinigami

• Hito Hito no Mi, Model: Slender Man • Hito Hito no Mi, Model: Spring Heeled Jack • Hito Hito no Mi, Model: Stickman • Hito Hito no Mi, Model: Succubus • Hito Hito no Mi, Model: Talos •

Hito Hito no Mi, Model: Titan

• Hito Hito no Mi, Model: Vampire • Hito Hito no Mi, Model: Vanara •

Hito Hito no Mi, Model: Veela

• Hito Hito no Mi, Model: War • Hito Hito no Mi, Model: Yama • Hito Hito no Mi, Model: Yeti • Hito Hito no Mi, Model: Yokai • Hito Hito no Mi, Model: Zombie • Inu Inu no Mi, Model: Canis Ferox • Inu Inu no Mi Model: Cerberus • Inu Inu no Mi, Model: Dip • Inu Inu no Mi Model: Fox • Inu Inu no Mi Model: Terrier • Inu Inu no Mi, Model: Arctic Fox • Inu Inu no Mi, Model: Bulldog • Inu Inu no Mi, Model: Chupacabra • Inu Inu no Mi, Model: Coyote • Inu Inu no Mi, Model: Fenrir • Inu Inu no Mi, Model: Hellhound • Inu Inu no Mi, Model: Hyena • Inu Inu no Mi, Model: Inugami • Inu Inu no Mi, Model: Kyūbi no Kitsune • Inu Inu no Mi, Model: Orthrus • Inu Inu no Mi, Model: Pesanta • Inu Inu no Mi, Model: Rottweiler •

Inu Inu no Mi, Model: Werewolf

• Itachi Itachi no Mi • Kaki Kaki no Mi • Kame Kame no Mi, Model: Tortoise • Kami Kami no Mi, Model: Chuck Norris • Kami Kami no Mi, Model: Gir • Kana Kana no Mi • Kani Kani no Mi, Model: King Crab • Kanon Kanon no Mi, Model: Doflamingo • Ki Ki no Mi moderu Jinmenju • Kin Kin no Mi • Komori Komori no Mi • Kujira Kujira no Mi, Model: Blue Whale • Kujira Kujira no Mi, Model: Fail Whale • Kuma Kuma no Mi, Model: Black Bear • Kuma Kuma no Mi, Model: Brown Bear • Kuma Kuma no Mi, Model: Koala • Kuma Kuma no Mi, Model: Panda • Kuma Kuma no Mi, Model: Polar Bear • Kuto Kuto no Mi • Kyojin Kyojin no Mi • Marsu Marsu no Mi, Model: Kangaroo • Mushi Mushi no Mi, Model: Ant • Mushi Mushi no Mi, Model: Black Widow • Mushi Mushi no Mi, Model: Brown Recluse • Mushi Mushi no Mi, Model: Death's Head • Mushi Mushi no Mi, Model: Grand Moth • Mushi Mushi no Mi, Model: Honey Bee • Mushi Mushi no Mi, Model: Hopper • Mushi Mushi no Mi, Model: Kabuto •

Mushi Mushi no Mi, Model: Paleozoic

• Mushi Mushi no Mi, Model: Praying Mantis • Mushi Mushi no Mi, Model: Queen Butterfly • Mushi Mushi no Mi, Model: Scorpion • Mushi Mushi no Mi, Model: Stag Beetle • Mushi Mushi no Mi, Model: Voodoo Wasp • Mushi Mushi no Mi, Model: Wyrm • Mushi Mushi no mi, Model: Centipede • Neko Neko no Mi model: Egyptian Mau • Neko Neko no Mi, Model: Bayun • Neko Neko no Mi, Model: Black Panther • Neko Neko no Mi, Model: Byakko • Neko Neko no Mi, Model: Jaguar • Neko Neko no Mi, Model: Korat • Neko Neko no Mi, Model: Korōri • Neko Neko no Mi, Model: Liger • Neko Neko no Mi, Model: Lion • Neko Neko no Mi, Model: Lynx • Neko Neko no Mi, Model: Moggy • Neko Neko no Mi, Model: Nekomata • Neko Neko no Mi, Model: Nemean Lion • Neko Neko no Mi, Model: Ocelot • Neko Neko no Mi, Model: Sabretooth Tiger • Neko Neko no Mi, Model: Tiger • Neko Neko no Mi, Model: Wildcat • Nezu Nezu no Mi, Model: Echidna • Nezu Nezu no Mi, Model: Hedgehog • Ningyo Ningyo no Mi • Nyan Nyan no Mi • Ohitsuji Ohitsuji no Mi • Oni Oni no Mi, Model: Behemoth • Oni Oni no Mi, Model: Daitengu • Oni Oni no Mi, Model: Demon Boar •

Oni Oni no Mi, Model: Demon King

• Oni Oni no Mi, Model: Dullahan • Oni Oni no Mi, Model: Erinys • Oni Oni no Mi, Model: Eurynomus • Oni Oni no Mi, Model: Fire Demon • Oni Oni no Mi, Model: Ogre • Oni Oni no Mi, Model: Rakshasa • Oni Oni no Mi, Model: Sea Devil • Oni Oni no Mi, Model: Shadow Demon •

Oni Oni no Mi, Model: Spirit of Vengeance

• Orumekko Orumekko no Mi • Rakko Rakko no Mi • Rakuun Rakuun no Mi, Model: Ring-tailed Cat • Reopon Reopon No Mi • Risu Risu no Mi, Model: Foamy • Sagi Sagi no Mi • Sakana Sakana no Mi, Model: Cthulhu • Sakana Sakana no Mi, Model: Kraken • Sakana Sakana no Mi, Model: Shark • Sakana Sakana no mi Model: Megalodon • Saru Saru no Mi, Model: Baboon • Saru Saru no Mi, Model: Gorilla • Saru Saru no Mi, Model: Hihi • Seirei Seirei no Mi, Model: Baku • Seirei Seirei no Mi, Model: Hangonkō • Seirei Seirei no Mi, Model: Samedi • Seirei Seirei no Mi, Model: Sylph • Shachi Shachi no Mi • Shinka Shinka no Mi • Shika Shika no Mi, Model: Black Elk • Shiroari Shiroari no Mi • Shishi Shishi no Mi, Model: Banshee • Shishi Shishi no Mi, Model: Chimera • Shishi Shishi no Mi, Model: Nian • Shishi Shishi no Mi, Model: Okami • Sufin Sufin no Mi, Model: Andro • Tako Tako no Mi, Model: Mimic Octopus • Tankourui Tankourui no Mi, Model: Platypus •

Tatsu Tatsu No Mi, Model: The Níðhöggr

• Tatsu Tatsu no Mi • Tatsu Tatsu no Mi, Model: Apocalyptic Dragon • Tatsu Tatsu no Mi, Model: Azure Dragon • Tatsu Tatsu no Mi, Model: Colchian Dragon • Tatsu Tatsu no Mi, Model: Dark Dragon • Tatsu Tatsu no Mi, Model: Earthland Dragon • Tatsu Tatsu no Mi, Model: Fire Dragon • Tatsu Tatsu no Mi, Model: Freshwater Dragon • Tatsu Tatsu no Mi, Model: Frost Dragon • Tatsu Tatsu no Mi, Model: Golden Dragon • Tatsu Tatsu no Mi, Model: Holy Dragon •

Tatsu Tatsu no Mi, Model: Ice Dragon

• Tatsu Tatsu no Mi, Model: Infinity Dragon •

Tatsu Tatsu no Mi, Model: Kirin

• Tatsu Tatsu no Mi, Model: Mother Night • Tatsu Tatsu no Mi, Model: Night King • Tatsu Tatsu no Mi, Model: Ryujin • Tatsu Tatsu no Mi, Model: Seiryu • Tatsu Tatsu no Mi, Model: Shikyo Ryuu • Tatsu Tatsu no Mi, Model: Skeletal Dragon • Tatsu Tatsu no Mi, Model: Space Dragon • Tatsu Tatsu no Mi, Model: Star Dragon • Tatsu Tatsu no Mi, Model: Titan Dragon • Tatsu Tatsu no Mi, Model: Twilight Dragon • Tatsu Tatsu no Mi, Model: Void Dragon • Tatsu Tatsu no Mi, Model: Wyvern • Tori Tori no Mi, Model: Achiyalabopa • Tori Tori no Mi, Model: Barn Owl • Tori Tori no Mi, Model: Carrion Crow • Tori Tori no Mi, Model: Chicken • Tori Tori no Mi, Model: Cockatrice • Tori Tori no Mi, Model: Crane • Tori Tori no Mi, Model: Crow • Tori Tori no Mi, Model: Dodo • Tori Tori no Mi, Model: Duck • Tori Tori no Mi, Model: Eagle-Owl • Tori Tori no Mi, Model: Emu • Tori Tori no Mi, Model: Gryffon • Tori Tori no Mi, Model: Hippogriff • Tori Tori no Mi, Model: Hummingbird • Tori Tori no Mi, Model: Lyrebird • Tori Tori no Mi, Model: Myna • Tori Tori no Mi, Model: Osprey • Tori Tori no Mi, Model: Ostrich • Tori Tori no Mi, Model: Parrot • Tori Tori no Mi, Model: Peacock • Tori Tori no Mi, Model: Penguin • Tori Tori no Mi, Model: Roc • Tori Tori no Mi, Model: Southern White-faced Owl • Tori Tori no Mi, Model: Thunderbird • Tori Tori no Mi, Model: Turkey • Tori Tori no Mi, Model: Vermilion Bird • Tori Tori no Mi, Model: White Dove • Tori Tori no Mi, Model: Woodpecker • Troaini Troaini No Mi •

Uki Uki no Mi, Model: Chimpanzee no Mi

•

Uma Uma no Mi, Model: Chìtù Mǎ

• Uma Uma no Mi, Model: Mustang • Uma Uma no Mi, Model: Pegasus • Uma Uma no Mi, Model: Unicorn • Usa Usa no Mi, Model: Lapahn • Ushi Ushi no Mi, Model: Antelope • Ushi Ushi no Mi, Model: Kelpie • Ushi Ushi no Mi, Model: Kudu • Ushi Ushi no Mi, Model: Ox • Ushi Ushi no Mi, Model: Toro Bravo • Ushi Ushi no Mi, Model: Water Buffalo • Viru Viru no Mi • Wani Wani no Mi • Wani Wani no Mi, Model: Bananadile • Yagi Yagi no Mi • Yajuu Yajuu no Mi, Model: Raijuu • Yajuu Yajuu no Mi, Model: Wendigo • Yajuu Yajuu no Mi, Model: Ziz • Zou Zou no Mi, Model: Elephas Maximus •

Zou Zou no Mi, Model: Mammoth

• Ōmono Ōmono no Mi, Model: Haiperion • Ōmono Ōmono no Mi, Model: Taifū