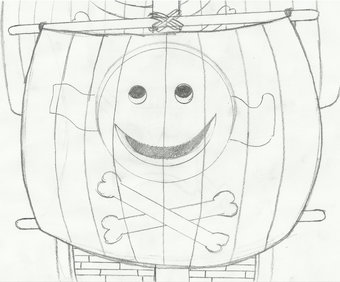 The Masked Pirates are a crew ran by their captain Marcus Soarian. They ride on their ship, " Libertà Di Forma," and came from the Grand Line. Their flag has a smiling mask with crossbones beneath it.
Crew Strength
Edit
Total bounty: 393,000,000 Belli
Crewmembers
Edit
Marcus Soarian - Captain - 105,000,000 Belli
Plume - Sniper - 75,000,000 Belli
Shango - Navigator - 60,000,000 Belli
Benigan - Doctor - 65,000,000 Belli
Sharon - Cook - 88,000,000 Belli
Romulous - Warrior - None
Arilius - Pet
Relationships
Edit
The Masked Pirate's captain, Marcus Soarian, had a duel with Guddu Rakku on Ever Jade Island.
The goal is to be the strongest pirate crew in the world with the pirate king as the captain.
Locations Visited
Edit
Water 7
Jaya
Arabasta
Ever Jade Island
All of the crewmembers that have transformed into animal anthros have never wanted to turn back.
Related Articles
Edit
External Links
Edit