Menchi

Post-Timeskip

 - 

Pre-Timeskip

Statistics
Japanese Name:
めんち
Romanized Name:
Menchi
English Name:
Menchi
First Appearance:
Fanon
Affiliations:
Wild Pirates
Occupations:
Pirate; Navigator
Epithet:
"Spoiled Brat" (

駄々っ子

Dadakko

?

)
Japanese VA:
Mariya Ise
Age:
18
Height:
146 cm
Bounty:
18,000,000
Menchi (めんち, Menchi?) is a navigator from the Wild Pirates. She is the eighth member to join the crew, but quickly gains a bounty of

18,000,000.
Appearance
Edit
Before the Timeskip
Edit
After the Timeskip
Edit
Personality and Relationships
Edit
Personality
Edit
Relationships
Edit
Powers and Abilities
Edit
Fighting Style
Edit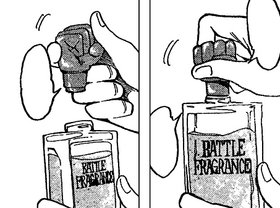 Menchi possesses a unique method of fighting: after research on pheromones for years, Menchi has developed certain fragrances that she can release as perfume to the air, and forces her opponents to inhale it. Each fragrance has different effects over the organism of her targets. To this style, she refers as Battle Fragrances (戦いの香り (バトルフレグランス), Batoru Fureguransu?).
The pheromones may even increase stamina, slightly stimulate the healing process (similar to hormones secreted by Emporio Ivankov's Horu Horu no Mi) or, when utilized offensively, cause foes to become disoriented, violent or extremely sick. One can issue a gas that makes people who inhale it poisoned or even activate an allergic reaction. The victims are still in control of their conscious, but have a weakened disciple.
Major Battles
Edit
References
Edit