Toro
Statistics
Japanese Name:
トーロ
Romanized Name:
Tōro
English Name:
Toro
First Appearance:
Fanon
Affiliations:
Kaguya's pirate crew
Occupations:
Pirate
Epithet:
"Toro of the Mist" (

霧のトーロ

Kiri no Tōro

?

)
Japanese VA:
Taira Katsui
Age:
27
Height:
259 cm
Bounty:
Unknown
Toro (トーロ, Tōro?) is a pirate from Kaguya's crew, one of the Kaisho. Currently, he serves as her personal bodyguard in her island, Omiki Island.
Appearance
Edit
Personality and Relationships
Edit
Personality
Edit
Relationships
Edit
Powers and Abilities
Edit
Fighting Style
Edit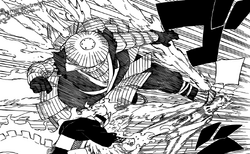 Utilizing the steam produced from his armor, Toro is capable of attacking his opponents with stronger attacks. The additional steam on each of his attacks results in scorching and pressurized attacks. Combined with his already high physical strength, he can land powerful hits that knock down even the strongest of combatants.
Attack List
Edit
Steam Punk (

スチームパンク

Suchīmupanku

?

): Toro approaches his target with extreme speed. He then proceeds to jump and kick him/her in the face, dealing a great amount of damage. It was first used against Mest, when they arrived to the island. The name of the technique is a pun on the term "steampunk", a sub-genre of science fiction that typically features steam-powered machinery.
Toro is seen wielding a unique type of armor, that is red in color and covers the entirety of his body, with the exception of his face, which only has his mouth and chin concealed. However, not only does it provide resistance against attacks, as it allows Toro to perform his unique type of combat, steam combat. On his back, Toro has a small box with holes. Inside, it contains one Flame Dial and one Water Dial. These two create extreme amounts of steam, that is ejected from the holes in the box and is then controlled with Toro's physical attacks.
Major Battles
Edit
References
Edit