Introduction
Edit
This is Tommy D. here, I'm 22 I'm from the USA and I'm the author of Shells, the fan fiction I'm currently working on, and multiple short stories and side projects since I'm terrible at focusing on a single work. If you wanna read it you can, however at this moment this iteration of Shells is defunct due to my own personal desire to completely rework my story into its own unique universe. If I ever get around to writing any of it I promise I will share it here. Furthermore I'm a figure of authority on this site, but unfortunately have a bad habit of being inactive for stretches of time. If you have any suggestions, tips, comments, advices, constructive criticisms, negative criticisms, or anything of the manner concerning your work here, someone else's work, another user, or anything you'd need to ask a higher-up about please direct it to my talk page. Thank you for reading this, so now for a never ending Intermission. Please enjoy the music. *Showtunes start playing FOREVER*
Here are all the chapters in order, in case you don't feel like typing in the names.
Prologue
Gattle Arc
Koko Islands Arc
Nova Arc
Bounty Hunter Arc
Spiderweb Arc
Cursed Island Arc
Sargasso-Mask Arc
The next chapter will appear whenever it appears.
Mysterious Photo
Edit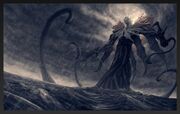 Community content is available under
CC-BY-SA
unless otherwise noted.